Story Progress
Back to home
Christmas Fudge Recipe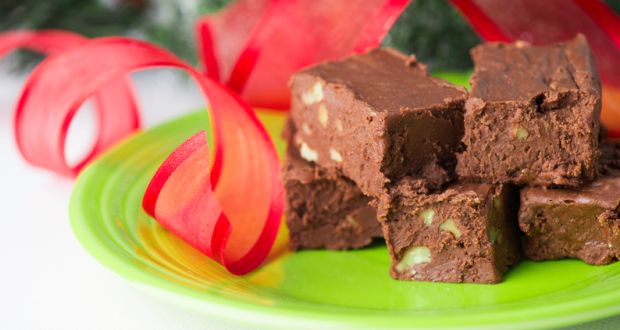 No Christmas is complete without the decadent chocolate fudge. Enjoy this nutty delight and spread the festive cheer!

Ingredients of Christmas Fudge
2 cups sugar
1 cup milk
2 cups semi-sweet chocolate chips
25 marshmallows, quartered
1 cup butter
1 tsp vanilla essence
2 cups milk chocolate chips
2 squares unsweetened chocolate
1 cup chopped nuts
1.
1. Grease a pan and set aside.
2.
2. Combine the sugar, milk, vanilla and butter in a large, heavy saucepan. Bring the mixture to a boil, stirring occasionally. Boil for about 2 minutes.
3.
3. Remove from heat and add the marshmallows, semi-sweet chocolate chips, milk chocolate chips and unsweetened chocolate. Stir until it melts completely and is smooth.
4.
4. Stir in the nuts and mix well. Pour into the prepared pans.
5.
5. Let the fudge sit at least for a day before cutting them into squares. You could refrigerate it for easier cutting.