Story Progress
Back to home
Cinnamon Rolls Recipe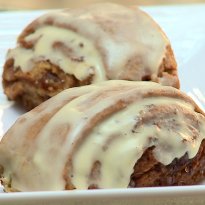 Soft, warm cinnamon rolls, now made healthy.

Ingredients of Cinnamon Rolls
For the Dough:
3/4 cup paneer or cottage cheese ( a 5 inch chunk)
1/3 cup low fat buttermilk (lukewarm milk mixed with lemon) it should be curdled.
2 Tbsp white sugar
2 inch chunk of unsalted butter
1 Tbsp of vanilla extract
About 2 cups flour
1 Tbsp baking powder
1/2 Tbsp salt
1/4 Tbsp baking soda
For the Filling:
3 Tbsp unsalted butter
3/4th cup packed brown sugar
1 1/2 Tbsp cinnamon powder
1/4 Tbsp ground cardamom
For the Glaze:
1/2 packet of cream cheese
2 Tbsp powdered sugar
1 Tbsp skim milk
1 Tbsp vanilla extract
1.
Heat the oven to 190 C. Grease the sides and bottom of a round baking pan with butter.
2.
Put the paneer, buttermilk, sugar, melted butter, and vanilla in a food processor and process until smooth, for about 20 seconds.
3.
In another bowl, add the flour, baking powder, salt, baking soda and add this to the mixie.
4.
Start and stop the mixie in short bursts just until the dough clumps together. The dough will be soft and moist.
5.
Dump the dough out and knead it with floured hands 4 or 5 times until smooth.
6.
With a rolling pin, roll the dough into a 12×15-inch rectangle.
For the Filling:
1.
Brush the dough with the melted butter, leaving a 1/2-inch border unbuttered around the edges.
2.
In a medium bowl, combine brown sugar, powdered cinnamon and green cardamom powder.
3.
Sprinkle the mixture over the buttered area of the dough and press gently into the surface.
4.
Starting at a long edge, roll up the dough jelly-roll style. Pinch the seam to seal.
5.
With a sharp knife, cut the roll into equal pieces. Place them in a greased pan and bake until golden brown and firm to the touch. Say, about 15 minutes. Set the pan on a wire rack to cool for 5 minutes.
6.
For the glaze, in a small bowl, mix the cream cheese, powdered sugar, and vanilla to make a smooth glaze. Add milk as needed to achieve desired consistency. Spread onto warm rolls.