Story Progress
Back to home
Coconut Biscuits Recipe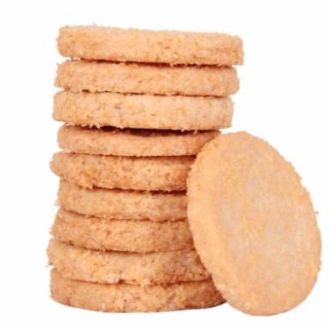 The best way to treat your friends is over a brunch or a tea party. This easy to make coconut biscuit recipe will make you the star of your Tea Parties.

Ingredients of Coconut Biscuits
500gm of white butter
500gm of brown sugar
500gm of desiccated coconut
50gm of desiccated coconut for sprinkling on top
500gm of whole wheat flour
100gm of milk
1Tbsp baking powder
2tsp of baking soda
1.
1. Gather and weigh all ingredients. Preheat the oven to 160 Celcius.
2.
2. In a mixing bowl, with a hand blender or kneader, whip the butter and sugar together until it forms a creamy consistency.
3.
3. Add the remainder of the ingredients and knead the dough together.
4.
4. Let it rest for a few minutes in a bowl covered with cling wrap in a cool room temperature area.
5.
5. On a marble top, roll the rough with a rolling pin into a rectangle shape with a thickness of about 1.5 cm.
6.
6. Cut the dough with a cookie cutter into small round circles.
7.
7. Place the cookies into a tray, sprinkle some desiccated coconut on top and let it bake at 160 Celcius for 10-12 minutes.