Story Progress
Back to home
Cola BBQ Sauce Recipe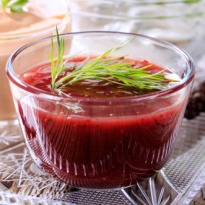 How to make Cola BBQ Sauce
A BBQ sauce with a twist! This one has a strong cola flavor. Try out something different with this unique sauce.

Ingredients of Cola BBQ Sauce
1 onion, diced
1 tomato, diced
1 green chilli
1 tsp chilli flakes
2 Tbsp tomato ketchup
1 jalapeno
1/2 tsp tobasco
1 tsp soy sauce
1/2 cup white wine vinegar
1/2 cup sugar
1/2 cup cola (You can use any black soft drink)
1.
In a food processor / mixie add onion, tomato, green chilli, chilli flakes, tomato ketchup, jalapeno chilli, Tabasco, soy sauce. Give it a mix. Keep aside.
2.
In a saucepan add white wine vinegar and sugar. Let it reduce by half. Then add the tomato-onion mix. Let it simmer.
3.
Add cola and let it cook for 10 minutes.
5.
Apply it on sausages or prawns, char grill them. Serve!