Story Progress
Back to home
Crunchy Ribbon Salad Recipe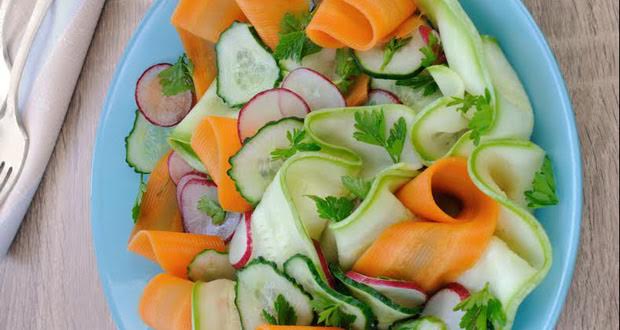 How to make Crunchy Ribbon Salad
About Crunchy Ribbon Salad Recipe: A healthy salad recipe with a light vinegar and oil dressing. Perfect as a side with some roasted meat and garlic bread.

Ingredients of Crunchy Ribbon Salad
For the salad:
2-3 Iceberg lettuce (teared)
3-4 Rocket leaves (teared)
2-3 Romaine leaves (teared)
1/2 Carrot (sliced into ribbons)
1/2 Cucumber (sliced into ribbons)
4-5 Cherry tomatoes
1 Spring onions (cut into chunks)
5-6 Black olives
5-6 Green olives
Dressing:
2 tbsp white wine vinegar
2 tbsp olive oil
A pinch of mustard powder
to taste salt
to taste pepper
1.
Wash all the vegetables nicely.
2.
In a bowl mix together all the salad ingredients.
3.
In another bowl whisk together oil and vinegar with some mustard powder. Add salt and pepper.
4.
Pour the dressing over the salad.