Story Progress
Back to home
Guppy House Salad Recipe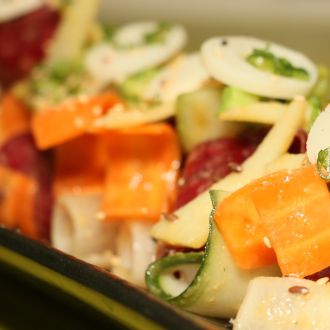 A colourful salad with broccoli, beetroot, palm hearts, and carrots, mixed and tossed in a refreshing mustard vinaigrette.

Ingredients of Guppy House Salad
For the Dressing
3 Tbsp extra virgin olive oil
4 tsp mustard seeds
2 tbsp vinegar
1 ½ tbsp honey
Sea salt to taste
For the Salad
2 carrots, washed and peeled
2 radishes, washed and peeled
2 cucumbers,without seeds, washed
1 cup broccoli, cut into 1 inch florets
1 beetroot, washed and peeled
50 gm bamboo shots, sliced (optional)
½ cup palm hearts, cut into roundels(optional)
6 asparagus, peeled and sliced into 2-inch pieces
1 Tbsp flax seeds
Salt and pepper to taste
2.
1. Add the mustard seeds in a blender along with 1 Tbsp water, honey and vinegar. Blend well.
3.
2. Slowly pour in the oil, while whisking continuously, until well blended. Check seasoning.
5.
1. Bring water to a boil in a large pot. Add broccoli, asparagus and bamboo shoot and cook for 30 seconds. Take it out using a mesh strainer and immediately refresh it in ice water, to stop further cooking.
6.
2. Thinly slice half the quantities of cucumber, beetroot, carrot and radish using a mandolin or peeler. Roll and shape the slices like flower petals.
7.
3. Slice the remaining halves into julienne (match stick shape). Dip them into ice chilled water for them to hold shape.
8.
4. Drain and pat dry all the vegetables. In a mixing bowl, add all the vegetables except palm heart. Season lightly with salt and pepper.
9.
5. Add dressing and toss well. Add palm heart and drizzle little more dressing on top.