Story Progress
Back to home
Cucumber Salad on Himalayan Salt Block Recipe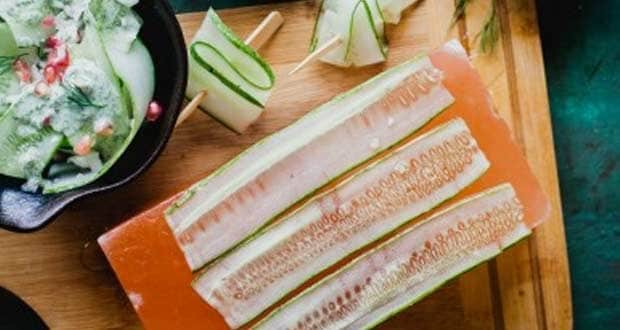 How to make Cucumber Salad on Himalayan Salt Block
Flavour your regular salad by letting it rest on an Himalayan salt block and see the magic.

Ingredients of Cucumber Salad on Himalayan Salt Block
1 Cucumber
1/2 Cup Thick greek yogurt
1 tsp Cumin powder
1/4 Cup Dill leaves, chopped
Red onion, finely chopped
1 Pomegranate
1.
Whisk yogurt in a bowl along with cumin powder and dill leaves. Slice the cucumber thinly using a vegetable peeler.
2.
Place the cucumber slices on cold salt block and allow it to cure and absorb the flavor. It should take about a couple of minutes on each side, depending on the thickness of cucumber slices.
3.
Once you are done curing all the cucumber slices, put it in a salad bowl and toss it with chopped red onion. Pour the yogurt sauce and give it a light mix.
4.
Drizzle some pomegranate pearls on top and serve the salad cold.