Story Progress
Back to home
Dal pitha Recipe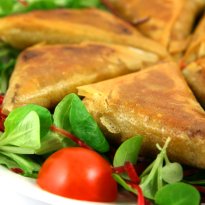 Wheat flour dumplings stuffed with a channa dal and chilli mixture.

Ingredients of Dal pitha
250 gm wheat flour
500 gm channa dal
1 teaspoon garlic and ginger paste
1/2 tsp green chilly paste
Some coriander leaves
Salt as per taste
1.
Soak dal three to four hours and then grind it into a smooth paste. Add all the spices.
2.
Take wheat flour and water, kneed flour smoothly and divide them into 6 portions.
3.
Fill mixed dal paste in every portion and roll them in gughiya shape.
4.
Put in microwave in high power for 2 to 3 minutes.