Story Progress
Back to home
Fish Mappas Recipe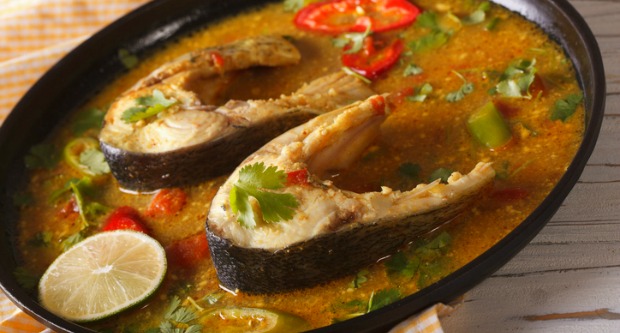 How to make Fish Mappas
Fish Mappas is a Kerala style curry where fish is cooked in creamy coconut milk and served with appams.

Ingredients of Fish Mappas
3 tsp coconut oil
1/4 tsp mustard seeds
1/4 tsp fenugreek seeds
5-6 curry leaves
2 slit green chillies
1/2 sliced onion
1 tsp coriander powder
1/4 tsp mustard powder
1/2 chopped tomato
2 soaked kokum fruits
4 big cubes of any sea fish
1/2 cup fish stock
1/2 cup coconut milk
For the tempering:
2 tsp coconut oil
1/4 tsp ginger juliennes
1/4 tsp chopped garlic
5-6 curry leaves
2 Tbsp chopped shallots
2.
Add mustard seeds, fenugreek seeds, curry leaves, slit green chillies and sliced onions. Saute till onions turn brown.
3.
Now add coriander powder, mustard powder, chopped tomato, kokum fruits, big cubes of any sea fish and fish stock.
4.
Cover and cook for 5 minutes.
5.
Now remove cover and reduce to a semi dry consistency.
6.
Add coconut milk and let simmer for 2 minutes taking care not to let the milk come to a boil.
7.
Temper with coconut oil; ginger juliennes, chopped garlic, curry leave and chopped shallots.