Story Progress
Back to home
Chepala Iguru (Fish Curry) Recipe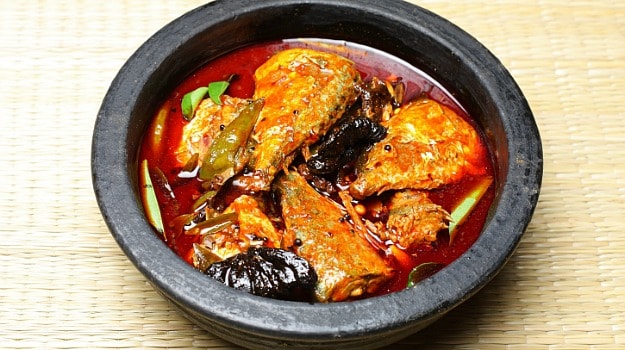 How to make Chepala Iguru (Fish Curry)
About Chepala Iguru (Fish Curry) Recipe: Marinated fish, fried and cooked in a rich gravy bursting with hot spices and mouthwatering flavours. Relish the gastronomic brilliance of this authentic Andhra fish curry.

Ingredients of Chepala Iguru (Fish Curry)
500 Gram Fish (cut into small pieces)
400 gram Onions, finely chopped
4 Green chillies, sliced
2 tsp Red chilli powder
1 tsp Cumin powder
1 tsp Coriander powder
1 tsp Turmeric powder
1 Tomato
1 tbsp Ginger-garlic paste
2 tbsp Coriander leaves
3/4 cup Oil
to taste Salt
For the marinade:
1/2 tsp Red chilli powder
1/2 tsp Turmeric powder
to taste Salt
1.
Marinate the fish with chilli powder, turmeric and salt, keep for 1/2 an hour.
2.
Fry fish pieces in oil till they turn golden brown.
3.
Now add onions and green chillies and fry till golden brown.
4.
Add dry powders, ginger, garlic paste, salt and tomato, fry till the oil separates.
5.
Add water and bring to a boil.
6.
Add fried fish and boil for about 7 minutes.
7.
Garnish with coriander leaves and serve hot.