Story Progress
Back to home
Kerala Fish Fry (Meen Varathathu) Recipe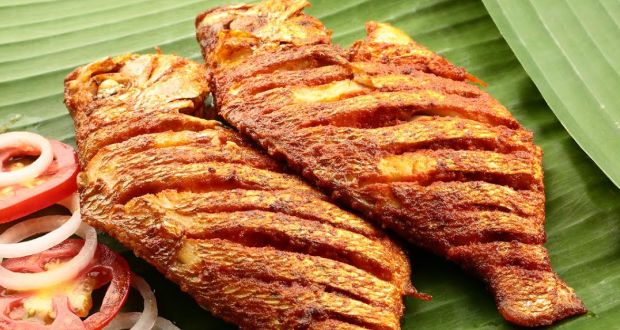 How to make Kerala Fish Fry (Meen Varathathu)
A lovely serving of fried fish from down South. Fish enriched with ginger, methi seeds, coriander powder and fried crisp.

Ingredients of Kerala Fish Fry (Meen Varathathu)
500 gm fish - scaled and cut diagonally into 3cm pieces oil for frying
1 Tbsp ginger - chopped
1 Tbsp chilli powder
1 tsp coriander powder
1 tsp turmeric powder
1 tsp methi seeds
1 Tbsp vinegar salt - to taste
1.
Wash fish, drain and keep aside.
2.
Then add grind ginger, chilli powder, coriander, turmeric, methi, vinegar and salt into a paste.
3.
Marinate the fish with the paste and keep aside for an hour.
4.
Heat oil and fry the fish pieces till they turn light brown in colour.
5.
Make sure that the flame is not too high.
6.
Pierce the fish with a knife and if it flakes easily it is cooked.
7.
Place the fish pieces on an absorbent paper to drain out the excess oil.