Story Progress
Back to home
Fish Moilee Recipe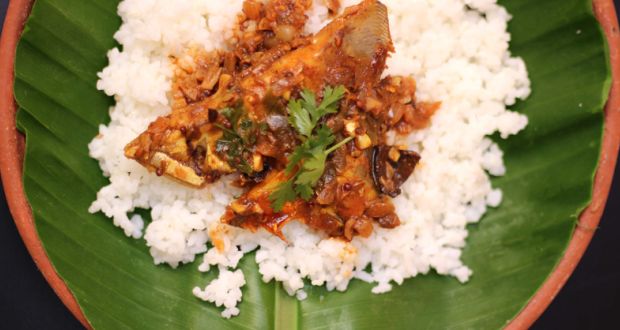 How to make Fish Moilee
About Fish Moilee Recipe: Savor the authentic taste of Kerala style Fish Molly or Fish moolie is a spicy fish and coconut dish which is common down South India along with other parts of the world such as Malaysia and Singapore. Here is a delectable fish curry, cooked in with thick coconut milk. Relish with cooked rice for dinner or lunch.

Ingredients of Fish Moilee
For marination:
Fill of fish bash
2 Onions
1 inch ginger
5-6 garlic cloves
6-7 Green chilies
1 tsp turmeric
1/2 tsp chili powder
1 tsp coriander powder
1 Lemon
Curry leaves
1 tbsp refined oil
For the curry:
2 tbsp refined oil
Curry leaves
1/2 tsp mustard seeds
1/2 tsp pepper corns
1/2 tsp fennel seeds
4-5 green cardamom
1/2 jug coconut milk
7-8 cherry tomatoes
Coriander leaves
Prepare marination:
1.
Julienne ginger, garlic cloves and onions.
2.
Split green chilies and cut the fill into pieces.
3.
In a bowl add pieces of cut fill, ginger, garlic, green chilies, onions, 1 tsp of turmeric powder, 1/2 tbsp of chili powder, 1 tsp of coriander powder, some curry leaves, juice of 1/2 lemon, salt and 1 Tbsp of refined oil.
Prepare the curry:
1.
Heat up the pan and drizzle it with some refined oil.
2.
Add some curry leaves, 1/2 tsp of mustard seeds, 1/2 tsp of pepper corns, 1/2 tsp of fennel seeds and 4-5 green cardamom.
3.
Saute it till the start to pop and crack.
4.
Add marinated fish, then mix coconut milk and split cherry tomatoes.
5.
Finish it with chopped coriander leaves.
Key Ingredients: Fill of fish bash, Onions, ginger, garlic cloves, Green chilies, turmeric, chili powder, coriander powder, Lemon, Curry leaves, refined oil, refined oil, Curry leaves, mustard seeds, pepper corns, fennel seeds, green cardamom, coconut milk, cherry tomatoes, Coriander leaves