Story Progress
Back to home
Five Ingredient Choco Mousse Recipe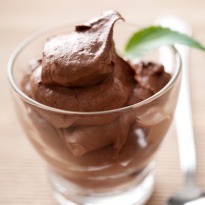 It couldn't get easier and tastier than this. A terribly easy chocolate mousse with only five ingredients.

Ingredients of Five Ingredient Choco Mousse
4 eggs, white and yolk separated
200 ml thick cream
2-3 Tbsp sugar
150 gm semi sweet chocolate
1 tsp vanilla essence
1.
Melt the chocolate in a double boiler (a bowl placed on top of a pan of boiling water) and keep it aside.
2.
Then heat up the cream to just below boiling point.
3.
Mix in the vanilla with the cream and let it cool.
4.
Cream the egg yolks with sugar till they are nice and fluffy.
5.
Now when the cream has cooled off add the egg and sugar mixture.
6.
Now place this egg-cream mixture in double boiler and cook this the mixture coats the back of the spoon.
7.
Once it is ready, let it cool down and then add the melted chocolate.
8.
Let this again cool down, to an almost chilled consistency.
9.
Then add the egg whites. These should be whipped with little sugar until soft peaks form.
10.
Add them to the chocolate mixture, mix and pour in small bowls.
11.
Chill for a while, till it sets.