Story Progress
Back to home
Foot-Long/Submarine Sandwich Recipe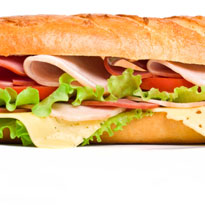 Salami, ham and cheese slices pair up flawlessly with an array of sauces.

Ingredients of Foot-Long/Submarine Sandwich
1 french loaf
2 Tbsp tomato ketchup
3 Tbsp mayonnaise sauce
4 lettuce leaves
100 gm salami slices
100 gm ham slices
4 cheese slices-cut into halves
2 Tbsp onions-sliced thin
1 tsp dried oregano leaves
4-6 toothpicks
1.
Slit the bread horizontally, leaving it joined on one side.
2.
Spread the ketchup on the cut surfaces and then the mayonnaise.
3.
Arrange the lettuce in a layer. Arrange the salami, ham and cheese slices over this.
4.
Sprinkle the onions on top of this and then the oregano.
5.
Fold the other half of the bread over and secure with the toothpicks at intervals, and serve.