Story Progress
Back to home
Gooseberry Pickle Recipe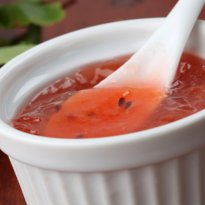 This pickle will stay for a month and is rich in Vitamin C.

Ingredients of Gooseberry Pickle
10 gooseberries
1 1/2 tsp fenugreek seeds
2 Tbsp mustard seeds
Turmeric powder
6 red chillies
4 green chillies
Pinch of asafoetida
Salt to taste
1.
Wash and clean the gooseberries so that there should not be any water left.
2.
Cut it into pieces and put it in mixer adding turmeric and salt. Once it is grinded, mix it well so that the salt and turmeric gets nicely incorporated,and then put it in a air tight container for 24 hrs.
3.
The next day Once it absorbs all the salt, take a pan add 5 spoons of oil, mustard seeds, fenugreek seeds, green and red chillies, asafeotida and fry it till the aroma comes but do not burn it. Once it is fried allow it to cool for sometime and put in a mixer and grind it.
4.
Add this mixture in to the gooseberry and pour the left over oil and mix well.
5.
Add red chilli powder if you want it more spicy.