Story Progress
Back to home
Hollandaise Sauce Recipe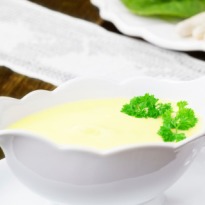 This creamy sauce made from an emulsion of egg yolk is an absolute essential for Eggs Benedict. It also goes beautifully with fresh steamed asparagus or other spring vegetables.

Ingredients of Hollandaise Sauce
2 Tbsp white-wine or tarragon vinegar
Lemon juice
4 Tbsp boiling water
3 large egg yolks
1/2 cup unsalted butter
1/4 tsp cayenne
1/2 tsp salt
1.
Melt the butter and keep it warm.
2.
Heat the vinegar or lemon juice until warm.
3.
Meanwhile keep a small saucepan with boiling water and a measuring Tbsp ready.
4.
Place the top of a double boiler over (not in) hot water. (This means the bottom of the top of the double boiler sound not make contact with the water heating in the bottom half of the double boiler.)
5.
Place the egg yolks in the top of a double boiler and whisk until they begin to thicken.
6.
Now add 1 Tbsp of the boiling water.
7.
Continue to beat the sauce until it begins to thicken.
8.
Repeat with the remaining water, one Tbsp at a time, beating the mixture after each addition.
9.
Now add the warmed vinegar or lemon juice. Remove the double boiler from the heat.
10.
Beat the sauce briskly with a wire whisk. Continue to beat the mixture as you slowly pour in the melted butter.
11.
Add the salt and cayenne and beat the sauce until it is thick. Serve immediately.