Story Progress
Back to home
Jalebi With Fennel Yogurt Pudding Recipe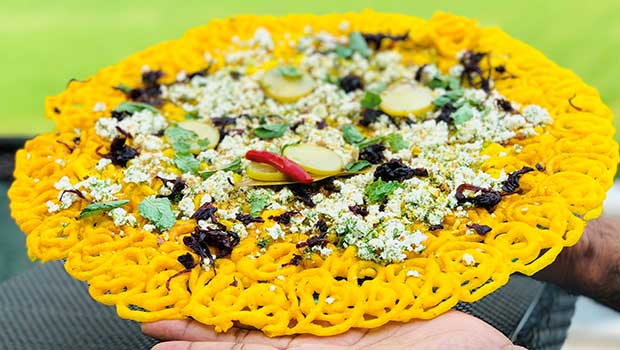 How to make Jalebi with Fennel Yogurt Pudding
The Jalebi is a traditional sweet dish that is made on every festival, special occasions. Festivals like Diwali are incomplete without the preparation of this sweet dish, it is a hot favourite dessert on any celebration not just in India but other countries as well. With so much of popularity, Jalebi has now begun to have various other creative recipes made around it, like the one we have here. The combination of fennel Yogurt and Jalebi along with mint leaves is just too delicious to resist, and a must have during the festival season at your next dinner party menu!

Ingredients of Jalebi With Fennel Yogurt Pudding
For Jumbo Jalebi:
1 cup All purpose Flour
1/2 cup Yogurt
To deep fry Oil
For Green Cardamom Syrup:
2 cups Sugar
2 cups Water
A pinch of Saffron
6 Green Cardamom
For Yogurt Pudding:
1-2 cups Yogurt (strained)
2 tbsp Milk (warm)
1/2 cup Sugar
A pinch of Nutmeg
A pinch of Cardamom Powder
Prepare Jumbo Jalebi:
1.
In a large bowl, whisk refined flour, yogurt and sufficient water to a smooth, pancake batter-like consistency.
2.
Cover and keep in a warm place to ferment for 24 hours.
3.
Before cooking the next day, whip the batter again for a few minutes.
4.
Heat sufficient oil in a pot on medium heat to 325 degrees. Pour some batter into a pastry bag with a small straight tip.
5.
Squeeze round spirals into the hot oil and deep fry, turning them over gently a few times, until they are evenly golden and crisp.
6.
Drain and soak in cardamom sugar syrup for 2-3 minutes. Take them out of the syrup and serve hot. Make as big as possible
Prepare Green Cardamom Syrup:
1.
Combine ingredients in a small pot and cook on medium/low heat for 30 minutes. Strain out cardamom and cool.
Prepare Yogurt Pudding:
1.
Mix ingredients in a large bowl. Let it chill.
2.
Now arrange all of them on top of the Jumbo Jalebi like a pizza and serve to celebrate.