Story Progress
Back to home
Kali Mirch Gobhi Recipe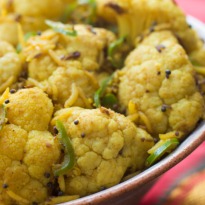 How to make Kali Mirch Gobhi
Peppery and creamy, cauliflower florets cooked in the flavors of pepper, cream, tomatoes and ginger.

Ingredients of Kali Mirch Gobhi
1 cauliflower
2 tomatoes
1 capsicum
1 small ginger
1 green Chilli
2 Tbsp fresh cream/malai
2 tsp black pepper
Salt to taste
1.
Put oil in a kadhai, add grated or finely chopped ginger and cook for a minute.
2.
Meanwhile make a paste of tomatoes and chilli in food processor or mixer.
3.
When ginger turn out golden brown, add the paste of tomato and chilli.
4.
Let the oil get separated from the paste, after which add cream/malai & finely chopped capsicum.
5.
Add black pepper and salt.
6.
Finally add cauliflower florets, mix well.
7.
Add half a cup water if required to soften florets.
8.
Cover it and let it cook for 10 minutes on a low flame.
9.
Stir it after 10 minutes, if still not done then let it cook for 5 minutes more.
10.
Garnish with fresh coriander leaves.