Story Progress
Back to home
Kashmiri Mutton Biryani Recipe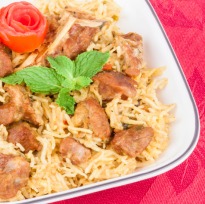 Looking for something exquisite to cook? Get your hands on some Kashmiri magic with this lip-smacking mutton biryani.

Ingredients of Kashmiri Mutton Biryani
1/2 kg mutton, cubed
1/2 kg cooked rice
1/2 cup yogurt
2 bayleaf
2 black cardamom
2 green cardamom
2 cinnamon sticks
4 cloves
2 tsp shahi jeera
1 Tbsp cashew nuts
2 tsp coriander powder
2 tsp chilli powder
2 tsp garam masala powder
1 tsp turmeric powder
1/4 nutmeg-ground
1/2 tsp saffron mixed with 1 Tbsp milk
4 Tbsp pure ghee
Salt to taste
1 cup chopped mint and coriander leaves
1.
Mix the meat with curd, chilli powder, turmeric powder and salt. Allow to marinate for one hour.
2.
Cook basmati rice in more than enough water with little salt, till just half done. Drain and keep aside.
3.
Heat ghee in a pan, add cloves, black cardamoms, green cardamoms, cinnamon, bay leaf, shahi jeera, coriander powder, ground nutmeg and garam masala.
4.
Add marinated meat stir and fry well till browned and the curd is absorbed.
5.
Add enough water to cook meat, cook till the meat is tender. Keep aside.
6.
Divide the rice into two portions. To one portion add saffron milk, half meat, half coriander and mint leaves, mix.
7.
Cover with white rice and remaining meat.
8.
Sprinkle the remaining coriander and mint leaves and cashew nuts.
9.
Shut the pot tightly. Cook on a low fire for a 30-45 minutes.
10.
Serve with shahi shorba and aam ka achaar. For semi boiled rice, bring water to boil, add rice cook till rice is almost done. Drain and use.