Story Progress
Back to home
Keema ke Kofte Recipe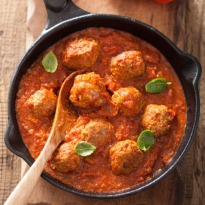 This recipe is a complete crowd pleaser. Minced meat balls bathed in an appetizing masala base.

Ingredients of Keema ke Kofte
Mix together for the meat balls:
2 cups minced mutton/lamb
1 tsp garlic-ginger paste
1 tsp salt
1/4 tsp powdered black pepper
For the gravy:
1 Tbsp ginger-garlic - finely chopped
3 cups onions - roughly chopped and ground with ginger-garlic
1/4 cup cooking oil
1 Tbsp cumin seeds
2 bay leaves
1/2 tsp garam masala
1 Tbsp salt or to taste
1/2 tsp turmeric
2 Tbsp coriander seeds - powdered
1/2 tsp chilli powder
2 cups tomatoes - finely chopped
Coriander leaves and cream for garnish
1.
Shape the meat mixture into walnut sized balls and refrigerate for an hour.
2.
Heat oil and add cumin seeds and bay leaf.
3.
Add the onion mixture and saute till light brown. Add tomatoes, garam masala, salt, turmeric, coriander and chilli powder, and saute till fat separates.
4.
Add about 2 1/2 cups water, bring to boil over high heat, and add the meat balls.
5.
Bring to a boil, then lower the heat and leave to simmer, till the koftas are cooked. Takes 15-20 minutes.
6.
Serve hot, garnished with the cream and coriander leaves.