Story Progress
Back to home
Khao Pod Tod (Corn Cake) Recipe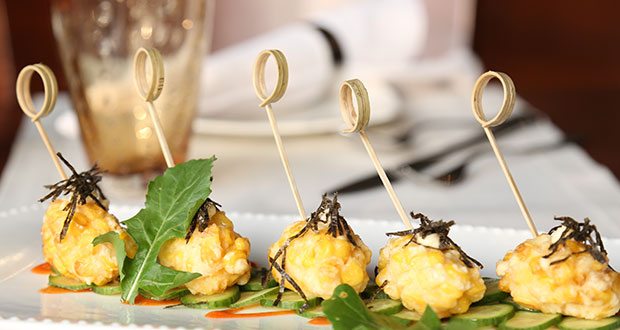 Enjoy these hot fritters on a bed of cool cucumbers. The succulent corn patties absorb the seasoning well and you would be left craving for more.

Ingredients of Khao Pod Tod (Corn Cake)
250 gm of corn kernels
10 gm of arugula leaf
20 gm of Siracha sauce
50 gm of cucumber
5 gm of salt
5 gm of pepper
Oil to fry
50 gm of tempura flour
6 satay sticks
30 gm of spring onions
1 egg
1.
1. Remove the kernels of corn from the cob. The best way to do is to remove by hand, peeling in a downward motion, one at a time. This preserves the whole kernel, and leaves them juicy and flavorful when you bite into them.
2.
2. In a bowl, add the corn, flour, spring onion chop, egg, salt and pepper. Mix well.
3.
3. Drop by rounded spoonful into hot oil... cooks on medium heat until golden brown, flipping once. It should take about one minute per side.
4.
4.Serve with siracha sauce. Garnish with arugula leaf and cucumber as base.