Story Progress
Back to home
Kothimbir Vade Recipe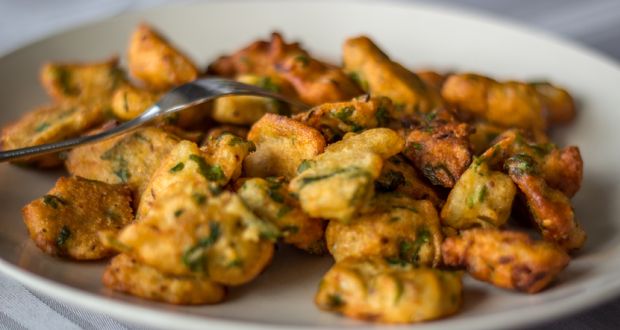 A popular tea time snack from Maharashtra made from gram flour, onions, turmeric, garlic and chilli ginger paste.

Ingredients of Kothimbir Vade
1 Tbsp oil 1/4 cup chopped onions
6 cloves garlic-chopped
1 cup gram flour
1 3/4 cups water
1/4 tsp turmeric powder
1 cup coriander leaves - chopped
1 Tbsp chilli-ginger paste
Salt to taste
Oil for shallow frying
1.
1. Put the oil, onions and garlic into a casserole dish and saute in a microwave oven on high, covered, for 2 minutes or heat oil and add onions and garlic and saute till a light brown.
2.
2. Mix gram flour and water together to make an even batter.
3.
3. Pour it into the casserole dish and cook on medium-high, for 4 minutes, without lid.
4.
4. Stir once or cook over medium heat stirring all the time till mixture thickens (a little bit cooled on a surface, should set).
5.
5. Mix the remaining ingredients and cook on high for 4 minutes.
6.
6. Cook over high heat stirring all the time till setting consistency is reached again.
7.
7. Remove mixture onto a tray and spread into a 1/2" thick rectangle.
8.
8. Cool completely and then cut into square pieces.
9.
9. Shallow fry the square pieces until golden brown.
10.
10. Use a little oil on a non-stick griddle.