Story Progress
Back to home
Lamb Stew Recipe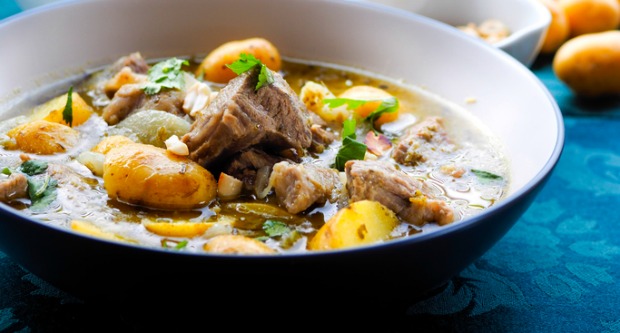 Coil in your couch with this warm, wholesome and comforting stew. Lamb meat cooked with kidney beans, blanched vegetables and stock.

Ingredients of Lamb Stew
1/2 kg boneless lamb-diced
1 cup kidney beans, soaked for half a day
1/2 cup diced carrots
1/2 cup diced onions
3 tsp chopped garlic
1/3 cup celery leaves
1 cup broccoli
1 cup asparagus
1 cup snow peas
2 cups lamb stock
1 bay leaf
2 Tbsp olive oil
Salt and pepper to taste
1.
Blanch together snow peas, asparagus and broccoli. Keep aside.
2.
Cook soaked kidney beans with some garlic, onion, carrot and celery.
3.
Take the lamb and season with salt and pepper.
5.
Add lamb and cook till it changes color.
6.
Remove from pan and strain off excess oil.
7.
Mix together diced carrot, onion and celery to make mirepoix.
8.
Saute this in a little oil.
9.
Now add lamb, garlic, salt, pepper, bay leaf and lamb stock.
10.
Cook till the meat is done.
11.
Add kidney beans and bring to a boil.
12.
Finish by adding all the blanched vegetables.