Story Progress
Back to home
Lamingtons Recipe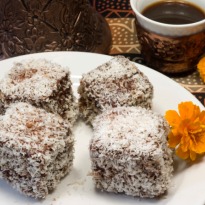 How to make Lamingtons
Vanilla flavored sponge cake cut into cubes, dipped in a rich chocolate sauce and rolled in desiccated coconut. Keep the cake cubes soaked in chocolate sauce a little longer to make it moist on the inside.

Ingredients of Lamingtons
For The Sponge Cake:
3 eggs
1 cup maida
1 Tbsp baking powder
1/2 cup butter + 1 tsp, softened
1 cup powdered sugar
1 tsp vanilla essence
For The Chocolate Sauce:
4-5 Tbsp milk
1 Tbsp butter
25-30 chocolate cubes (I bought bars of readily available milk chocolate)
To Coat:
Coconut powder or you can grate fresh coconut
1.
Pre heat the oven at 200 degrees. Grease the cake mould with 1 tsp butter. Sprinkle a little flour on the tin base to avoid the cake from sticking on the sides.
2.
Sift the flour and baking powder together and keep aside.
3.
In a bowl break 3 eggs and keep beating till the eggs are frothy. Its crucial to whip the eggs nicely for the cake's sponginess. (I used an electric mixer.)
4.
Add the powdered sugar and mix.
5.
Add 1/2 cup softened butter and vanilla essence. Mix.
6.
Add the sifted flour and baking powder. Mix.
7.
Pour the batter into the greased tin and bake at 180 degrees until done.
8.
You can check by inserting a toothpick into the cake, if its done or not. If the toothpick comes out dry, it means the cake is done.
9.
When baked, get the cake out of the tin carefully. Let it cool for 10-15 minutes and cut the cake into symmetrical cubes.
10.
Dip in the chocolate sauce. Roll in grated coconut. Serve.
For The Chocolate Sauce:
1.
Melt the chocolate with the butter in the microwave (20-30 seconds on Medium) or a double boiler (bottom pan with water; chocolate and butter on the upper pan).
2.
Once melted, add milk to make the sauce. Mix them together with a spoon.