Story Progress
Back to home
Macchhli Jaisamandi Recipe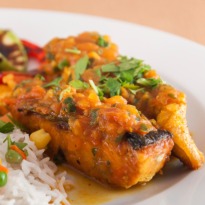 How to make Macchhli Jaisamandi
About Macchhli Jaisamandi Recipe: Give your taste buds a flavourful shock with this Rajasthani gem. Tender fish pieces are marinated in a green paste, fried and further cooked in a mouth-watering gravy full of spices and silky texture of cream.

Ingredients of Macchhli Jaisamandi
Fish (as required)
4 tsp oil
For the green chutney:
Fresh mint leaves
Fresh coriander leaves
to taste garlic and ginger
For the batter:
2 eggs
250 gms clarified flour
Water
to taste salt
For the sauce:
2 tsp oil
1/2 tsp cumin seeds
10 tsp fresh cream
2 tsp green chutney
to taste salt
For the green chutney:
1.
Grind mint leaves, coriander leaves, ginger and garlic to a fine paste.
For the fish:
1.
Cut the fish into small pieces and slit open from the center.
2.
Then fill the fish with green chutney and keep it aside
For the batter:
1.
Add egg, clarified flour, salt and water in a bowl to make paste.
2.
The batter is also ready.
4.
Dip the fish in the batter.
5.
Semi fry the fish in the pan and keep it aside
For the main preparation:
2.
Add cumin seeds and cook them till they start crackling.
3.
Then add fresh cream, green chutney, semi cooked fish and salt.
4.
Cook the fish for a few minutes.
5.
Macchhili jaisamandi is ready
6.
Garnish with ginger juliennes and fried mint leaves.