Story Progress
Back to home
Meen Mulligatanni Recipe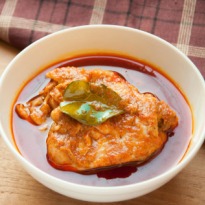 This simple fish curry is to die for. Based in thick coconut milk, it is made from a handful of ingredients, chilli being the most prominent one. It tastes best when served with rice.

Ingredients of Meen Mulligatanni
2 Tbsp coconut oil
1 1/2 Tbsp chopped onions
1/2 tsp ginger strips
1/2 tsp garlic, chopped
Green chillies to taste
5 curry leaves
3 Tbsp Mulligatanni masala
1/2 cup water
1/2 tsp salt
8 pieces of fish (pick any)
6 Tbsp coconut milk
Masala:
Dry red chillies
3 Tbsp toddy vinegar
1 tsp coriander powder
For the Mulligatanni masala:
1.
Soak dry red chillies for 1/2 an hour.
2.
Grind with coriander powder to a fine paste and add vinegar.
For the preparation:
1.
Heat coconut oil in a pan. Add chopped onions, thin strips of ginger, chopped garlic, green chillies and curry leaves.
2.
Now add the mulligatanni masala with water and salt. Add fish, cover the pan and cook for 10 minutes.
3.
Add the coconut milk before removing the pan from the stove and serve hot with rice.