Story Progress
Back to home
Melon Balls with Rocket and Radish Recipe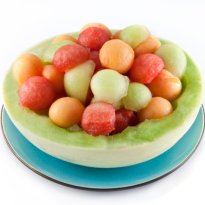 Little balls scooped out from melon are served with ribbons of radish, rocket and mint leaves.

Ingredients of Melon Balls with Rocket and Radish
1/2 each watermelon, musk melon
1 cup rocket leaves
1/2 a radish
Few mint leaves
1 fennel bulb chopped
For the dressing:
1 tsp minced ginger
Juice of 1 lemon
2 Tbsp extra virgin olive oil
1 tsp honey
1 1/2 tsp chive greens
Salt to taste
1.
In a bowl, add lime juice, honey, olive oil, ginger and salt.
2.
Add chopped chives and give it a little mix.
3.
Rest in the fridge for 10-15 minutes.
4.
Cut the melons into half and remove the seeds.
5.
Scoop out the fruit into small balls.
6.
Use a peeler to peel out ribbons of radish.
7.
Add the radish in a bowl with the melon balls, dressing, chopped fennel bulb, rocket and mint leaves.