Story Progress
Back to home
Mexican Barbeque Sauce Recipe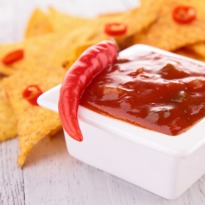 It is a hot and spicy Mexican barbeque sauce with an innovative addition of beer to it. Serve it along with your meals to jazz up the usual, regular affair.

Ingredients of Mexican Barbeque Sauce
1 Tbsp olive oil
1 medium onion, chopped
1 clove garlic, peeled and minced
1 fresh chili pepper-stemmed, seeded, chopped
1-1/2 tsp salt
2 large tomatoes, peeled and cut
2 Tbsp chilli powder
2 Tbsp sugar
1/4 cup vinegar
1/3 cup olive oil
1/4 cup beer
2.
Saute onion until lightly browned.
3.
Add garlic, chilli, salt and tomatoes.
4.
Let it simmer until the mixture thickens.
5.
Add the remaining sauce ingredients.
6.
Cook for about ten minutes, keep stirring.
7.
Put out the heat, let it cool.
8.
Store as required and serve.