Story Progress
Back to home
Mocha crunch bars Recipe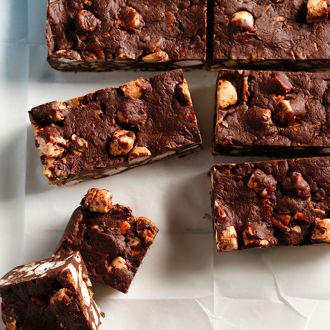 These crispy and crunch bars are a quick fix for all the sweet cravings. Easy to make and easy to serve, they are definitely worthy of a try.

Ingredients of Mocha crunch bars
1.
Instructions: 1. Prepare a 9 x 9 inch (22 x 22 cm) pan with foil and parchment paper, sprayed with canola oil. Set aside. 2. In a large glass bowl, place chocolate, sweetened condensed milk and canola oil. Microwave for 15 seconds, take out and stir, place back into the microwave for another 15 seconds, stirring again. Keep doing this until most of the chocolate is all melted. 3. Add nuts and marshmallows, stirring to coat completely. Place into prepared pan and refrigerate for 30 minutes or until set. 4. Cut into 18 bars.