Story Progress
Back to home
Mushroom Xacuti Recipe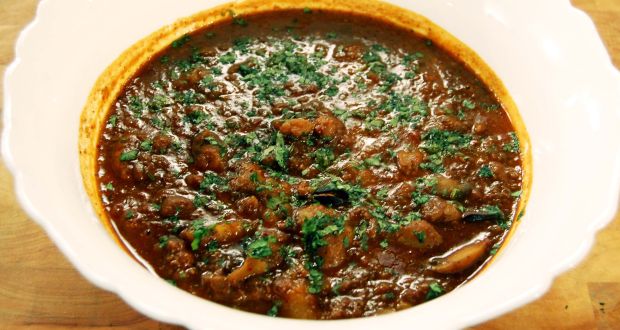 How to make Mushroom Xacuti
NDTV Food
About>Mushroom Xacuti Rcipe : Mushroom Xacuti is a classic Goan dish. Mushrooms and potatoes cooked in goan flavours of tamarind, kokum, coconut oil and goan vinegar.

Ingredients of Mushroom Xacuti
For Xacuti Masala:
10 whole kashmiri chillies
10 bong chillies
Smashed ginger small piece
15 whole garlic
1/2 Tbsp black pepper
1/2 Tbsp cloves
2 brown cardamom
1/2 Tbsp fenugreek seeds
1/2 Tbsp shahi zeera
5 pieces green cardamom
1 Tbsp cumin seeds
1 Tbsp coriander seeds
1 Tbsp poppy seeds
1/2 Tbsp anna seeds
1/2 grated coconut
2 Tbsp goan vinegar
A pinch of salt
1 tsp turmeric powder
1 tsp red chilli powder
1 tsp coconut oil
For Base:
2 Tbsp coconut oil
1 finely chopped onion
A pinch of sugar
1 Tbsp tamarind extract
1 glass water
6 coconuts
3 boiled chopped potatoes
15 button mushroom (cut into two)
For Xacuti Masala:
1.
In a pan saute whole kashmiri chillies, bong chilies, smashed ginger, whole garlic, black pepper, cloves, brown cardamom, casia, fenugreek seeds, shahi zeera, green cardamom, cumin seeds, coriander seeds, poppy seeds, ana seeds and grated coconut.
2.
Pound them in mortar and pestle with goan vinegar, salt, turmeric powder, red chili powder, coconut oil and little water.
For Base:
1.
In a different pan add coconut oil and finely chopped onion. Mix them well
2.
Add Xacuti Masala into it. Combine it well.
3.
Add little water, sugar, tamarind extract, and kokum.
4.
Mix them well. Cover it. Simmer them for 30 minutes.
5.
Add one by one boiled chopped potatoes and button mushrooms.
6.
Cover it and let the potatoes and mushrooms cook for 10-15 minutes.
7.
Serve the Mushroom and Potato Xacuti hot.