Story Progress
Back to home
Mushroom Palak Kofta Recipe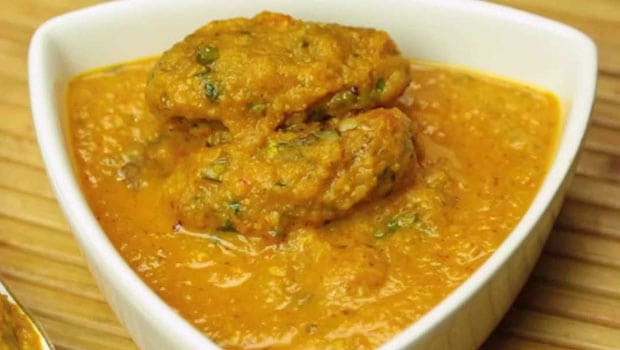 How to make Mushroom Palak Kofta
NDTV Food
About Mushroom Palak Kofta Recipe: This kofta filled with spinach and mushroom is dipped in gravy and can be served with roti or rice. It is special treat for the mushroom lovers.

Ingredients of Mushroom Palak Kofta
For kofta Filling:
200 gram Palak, chopped
2 cups Water
1 tbsp Butter
1/2 cup Mushroom, chopped
1/2 tsp Salt
1/2 tsp Black Pepper Powder
For Kofta Balls:
1/2 cup Boiled Potato
2 tbsp Paneer
1 tbsp Khoya
1/2 tsp Cardamom Powder
1/2 tsp Salt
1/2 tsp Black Pepper Powder
1/4 tsp Saffron
1 tbsp Maida
1 tsp Chopped Coriander
1/2 cup Oil
For Gravy:
2 tbsp Ghee
1/2 cup Onion , chopped
1 tsp Ginger Garlic Paste
2 Tomatoes, chopped
1 tsp Turmeric Powder
1 tsp Red Chilli Powder
1 tsp Garam Masala
1 tsp Coriander Leaves
2 tsp Tomato Puree
1/2 cup Water
1/4 cup Khoya + Water
1.
To prepare kofta filling, in a pan boil palak in 2 cups of water. 2.
After boiling, remove the water. 3.
In another pan add butter and chopped mushroom. 4.
Add salt and black pepper powder. Mix it well and cook for about 1 minute. Preparing Kofta Balls:
1.
Put boiled potatoes in a bowl and add paneer to it. 2.
Add Khoya, cardamom powder, Salt, black pepper powder and saffron. 3.
Mix well and add mushroom along with the boiled palak to it. 4.
Now add maida and coriander. Mix it thoroughly to combine all the ingredients. 5.
Apply oil on your palms and make oval shaped Kofta balls. 6.
Deep fry the balls in oil until golden brown. Preparing the Gravy:
1.
Heat ghee in a pan and saute onion in it until golden-pink. 2.
Now add ginger garlic paste to it and mix well. 3.
Cook for about 1 minute and add tomatoes. 4.
Add a tsp of salt, turmeric powder, red chilli powder and garam masala each. Mix thoroughly. 5.
Add coriander leaves and tomato puree. Mix it well and cook for a minute. 6.
Let it cool at room temperature and then grind to make a fine paste. 7.
In the same pan, pour out the paste and add ½ cup of water. Cook it for about 2 minutes to get a thick paste. 8.
Add ¼ cup of Khoya mixed with water and mix it with the gravy thoroughly. Let it simmer. 9.
Add fried koftas to it and cook for a minute at low flame. 10.
Take a serving bowl and serve hot. Watch the step by step recipe of Mushroom Palak Kofta here: