Story Progress
Back to home
Mushroom Spaghetti Carbonara Recipe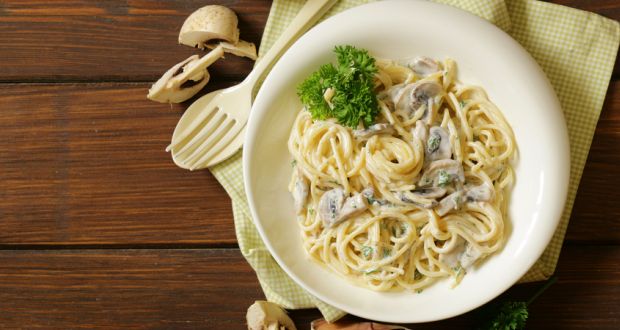 How to make Mushroom Spaghetti Carbonara
About Mushroom Spaghetti Carbonara Recipe: Here is a version of the famous spaghetti carbonara. Spaghetti tossed in a creamy, cheesy sauce with mushrooms and onions.

Ingredients of Mushroom Spaghetti Carbonara
For the spaghetti:
1/2 packet spaghetti
Salt
For the carbonara:
50 ml cream
1 egg
3-4 tbsp processed cheese
Salt and pepper
Main dish:
Spaghetti, boiled
2 Onions
4-5 Mushrooms
Salt and pepper
2 Dry red chili
1/2 tsp fennel seeds
1/2 tbsp butter
1/2 Lemon (juiced)
Spring onions
3 tbsp olive oil
Prepare the spaghetti:
2.
Bring the water to boil, add salt and ½ pkt of spaghetti.
3.
Once cooked strain out the water
Prepare the carbonara:
1.
In a bowl add 50 ml of cream, 1 egg, 3-4 Tbsp of grated cheese, salt and pepper.
Main dish:
1.
Julienne 1 1/2 onions and 4-5 mushrooms
2.
Heat up the pan and drizzle 3 Tbsp of olive oil.
3.
Add 2 dry red chilies, 1/2 tsp of fennel seeds, onion and let them char
4.
Now add mushrooms, salt and black pepper, 1 Tbsp of butter, juice of ½ lime, carbonara sauce and boiled spaghetti.
6.
Serve it with spring onions.