Story Progress
Back to home
Spaghetti Carbonara Recipe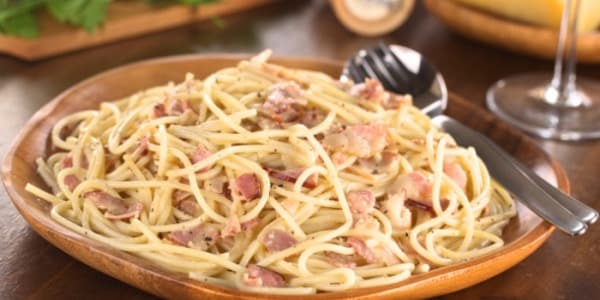 How to make Spaghetti Carbonara
A classic Italian pasta dish with the key ingredients of egg, bacon and parmesan cheese. Its rich, its tasty and its a great option for brunch. Try this easy spaghetti carbonara recipe.

Ingredients of Spaghetti Carbonara
500 gms spaghetti
275 gms pancetta bacon
2 Tbsp olive oil
4 Tbsp cream
80 gms parmesan cheese
1 egg
Freshly grated nutmeg
1 shot white wine
Salt
Pepper
1.
Take some salted water in a pan. Add some olive oil and boil the spaghetti.
2.
In another pan, fry some pancetta bacon.
3.
For the carbonara base, in a bowl take cream, parmesan cheese, egg and some grated nutmeg. Add salt and pepper and whisk.
4.
To the fried bacon add a shot of white wine and the boiled spaghetti. Then add two ladles of pasta water and mix well.
5.
Finally add the carbonara mix to the pasta, keep stirring simultaneously.
6.
To Serve: Garnish the spaghetti carbonara with olive oil.