Story Progress
Back to home
Mustard-Parmesan Whole Roasted Cauliflower Recipe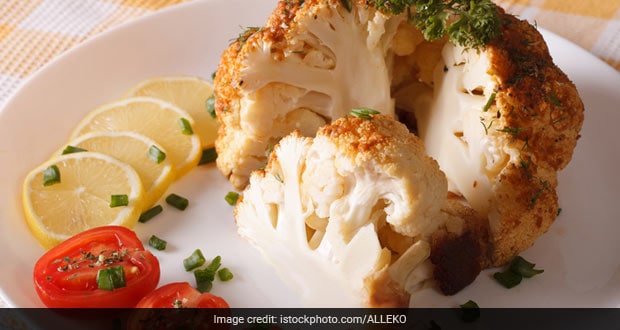 How To Make Mustard-Parmesan Whole Roasted Cauliflower
This delicious Gobi with a Christmas Twist is liked even by meat eaters. It is a side dish grabbing more attention than the main dish served on dining table. It is roasted like you roast chicken but more attractive as it is not something prepared so commonly.
Total Cook Time

1 hr 05 mins

Ingredients of Mustard-Parmesan Whole Roasted Cauliflower
2 Large Cauliflowers
1 Clove Garlic, Halved
1/4 cup Olive Oil
4 tbsp Dijon mustard
Kosher salt
Freshly Ground Black Pepper
1/2 cup Fresh Parsley Leaves, chopped
1/4 cup Parmesan , grated
Lemon wedges
1.
Position an oven rack in the bottom of the oven and preheat to 450 degrees Fahrenheit. Line a baking sheet with foil.
2.
Remove the leaves from the cauliflower, then trim the stem flush with the bottom of the head so the cauliflower sits flat on the prepared baking sheet.
3.
Rub the outside of each head with the cut garlic.
4.
Whisk together the oil, 3 tablespoons mustard, 1/2 teaspoon salt and a few grinds of black pepper in a small bowl.
5.
Put the cauliflower on the prepared baking sheet and brush the entire outside and inside with the mustard-oil mixture.
6.
Roast the cauliflower until nicely charred and tender (a long skewer inserted in the centre of the cauliflower should pass through easily), 50 minutes to 1 hour. Let rest for a few minutes.
7.
Meanwhile, combine the parsley and Parmesan in a small bowl. Brush the outside of the roasted cauliflower heads all over with the remaining 1 tablespoon mustard and generously sprinkle with the Parmesan mixture.
Recipe Notes
To serve - Cut the cauliflower into thick wedges and serve on plates with a sprinkle of salt, lemon wedges and any extra Parmesan mixture.