Story Progress
Back to home
Naan Veggie Pizza Recipe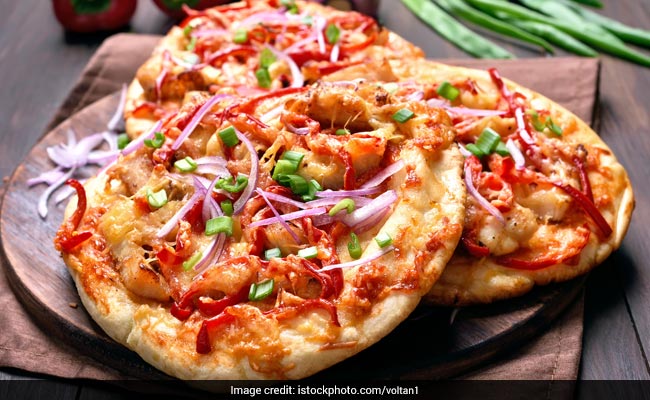 How To Makee Naan Veggie Pizza
About Naan Veggie Pizza Recipe: Don't have a pizza base but craving a pizza? Bake a delicious, cheesy pizza on a naan bread! Here's a stellar naan veg pizza recipe you can make at home in no time!

Ingredients of Naan Veggie Pizza
2 loaves naan bread
1/4 cup olive oil (divided)
1 cup fresh mushrooms, sliced
1 tomato, chopped
1 bell pepper, sliced
1 small red onion, chopped
1 tbsp fresh basil (optional), chopped
1 tbsp fresh oregano (optional), chopped
1/2 tsp red pepper flakes (optional)
1 tbsp garlic (finely minced)
3 cups mozzarella cheese, shredded
1.
Preheat oven to 375 degrees F (190 degrees C). Place the naans on baking sheets and brush with olive oil.
2.
Bake the naans in the preheated oven until lightly toasted for 5 to 10 minutes.
3.
Stir the mushrooms, tomato, bell pepper, red onion, basil, oregano, and red pepper flakes together in a bowl. Fold the garlic and add 1 tablespoon of olive oil into the vegetable mixture.
4.
Spread the mozzarella cheese on each side of the naans; top with the vegetable mixture.
5.
Bake the pizzas in the oven until the cheese is melted and vegetables are cooked through for 10 to 15 minutes.