Story Progress
Back to home
Noodles with Mixed Meat Recipe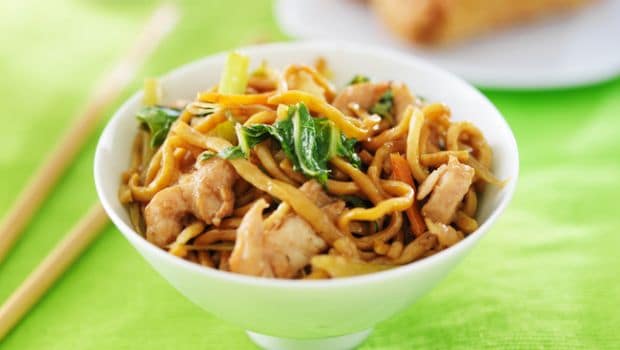 How to make Noodles with Mixed Meat
The classic trio - meats, veggies and noodles.

Ingredients of Noodles with Mixed Meat
300 Gram Noodles (cooked)
1 tbsp Oil
1 large Onion, sliced
2 tsp Garlic paste
1 Ginger, finely chopped
8 Water chestnuts (sliced)
1 tbsp Soya sauce
50 ml Strong chicken stock
200 gram Chicken (cooked)
150 gram Ham
200 gram Prawns (cooked with the tails)
150 gram Bean sprouts
200 gram Baby corn
2 Limes (quartered)
2 tbsp Coriander, chopped
For Sweet and Sour Ginger Dip:
4-5 Red chillies (seeded), chopped
1 Onion, chopped
1 1/2 tsp Garlic paste
3/4 tsp Ginger paste
2 tbsp Sugar
1/4 tsp Salt
3 tbsp Vinegar
1.
Heat the oil. Fry onion, garlic and ginger until they soften.
2.
Add chestnuts, sauces and meats. Cook for 1 minute.
3.
Add noodles, bean sprouts and baby corn. Stir and fry for 3-4 minutes. Serve hot.
For the Ginger Dip:
1.
Combine all the ingredients together and serve with the noodles.