Story Progress
Back to home
Olive and Rosemary Focaccia Bread Recipe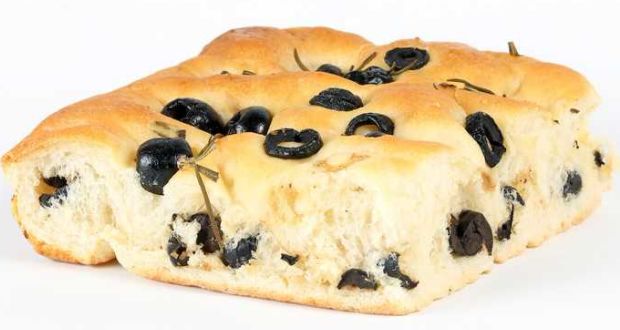 How to make Olive and Rosemary Focaccia Bread
Focaccia bread is an Italian flat bread topped with herbs. In this version the bread is topped with rosemary and black olives.
Total Cook Time

2 hrs 20 mins

Ingredients of Olive and Rosemary Focaccia Bread
2 tsp active dry yeast
1 tsp reg sugar
3 cups flour/atta
1 3/4 cup lukewarm water
1 tsp salt
3 Tbsp olive oil
3/4 tsp chopped fresh rosemary or 1/2 tsp dried
1/3 cup kalmata olives pitted and cut into circles
1.
Start by taking the temp of your lukewarm water. It should be 45 degrees centigrade or 110 degrees Fahrenheit.
2.
In a measuring cup put sugar. Take the right temp of water and add yeast to 3/4 cup warm water. It should start bubbling.
3.
Keep aside the water and yeast mix for 10 minutes. Now add to sugar.
4.
Add salt and rosemary to the 3 cups flour and mix with hands. Add 1.5 tablespoon olive oil to flour. Add sliced olives. Mix with hands.
5.
Now add the yeast mix to flour along with rest of water, knead to make a nice dough ball using flour if needed.
6.
Put 1 tablespoon olive oil in a bowl and rub dough ball all over with the oil. Cling film this bowl along with dough ball.
7.
Keep in a nice warm place for 1 hour so it doubles in size. Take out and roll and punch all air out.
8.
Roll and place in a nice pizza sheet with holes. Cling film again and keep in warm place for 30 minutes.
9.
Let it rise further. Now open and rub 1 tablespoon olive oil (to get a nice crispy finish).
10.
Use fingers to create the holes in focaccia and decorate with black olives or herbs.
11.
Keep in middle rack of oven at 220 degree centigrade for 35 to 40 minutes. Cool 10 minutes before serving.