Story Progress
Back to home
Orange Chicken Recipe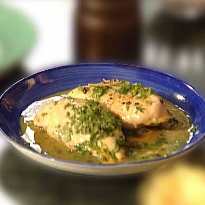 Chicken sauteed in butter and herbs with an orange juice based gravy.

Ingredients of Orange Chicken
4 chicken breasts - skinned and de-boned
2 large knobs of butter
150 ml orange juice
2 Tbsp chopped coriander
Herbs like oregano, parsley, thyme, rosemary
2 oranges/sweet limes for garnish
Salt and pepper
For the garlic bread:
1 crusty French bread, you can use regular white bread too
100 gm butter
1 tsp garlic paste
Black pepper
1.
Saute the chicken in 1 knob of butter for 1 minute.
2.
Pour in juice. Simmer with chicken for about seven minutes until tender.
3.
Stir in herbs and finally whisk in the rest of the butter.
4.
Season well and garnish with orange/sweet lime segments just before serving.
For the garlic bread:
1.
Slice the bread on the diagonal, not quite through to the base at 1 inch intervals.
2.
Combine butter, garlic and pepper. Spread over each slice.
3.
Wrap in a foil and bake for 10 minutes in a very hot oven.
4.
Unwrap and continue baking to crisp surface before removing from oven. Serve hot.