Story Progress
Back to home
Orange Walnut Quinoa with Chickpeas and Mint Recipe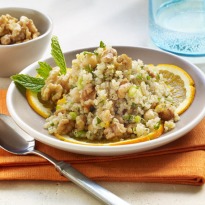 How to make Orange Walnut Quinoa with Chickpeas and Mint
Mild tasting quinoa with orange, mint and walnuts toasted with cumin and chopped coriander.

Ingredients of Orange Walnut Quinoa with Chickpeas and Mint
For the Toasted Walnuts with Coriander and Cumin:
1/2 cup chopped walnuts
1/2 tsp olive oil
1/2 tsp ground coriander
1/2 tsp ground cumin
Remaining ingredients:
1 1/2 cups quinoa
Water
1 tsp salt
1 tsp ground cumin
1/2 tsp ground coriander
1/4 tsp cinnamon
1 cup cooked chickpeas, or canned chickpeas (garbanzo beans), drained
1/2 cup chopped fresh mint
2 scallions, finely chopped (both green and white parts)
2 Tbsp freshly squeezed orange juice
1 1/2 Tbsp olive oil
1 1/2 Tbsp fresh lemon juice
1 Tbsp finely grated orange zest
How to Make Orange Walnut Quinoa with Chickpeas and Mint
Hide

Show

Media
1.
Preheat the oven to 350°F. To prepare the walnuts, toss them in a small bowl with the olive oil, coriander and cumin.
2.
Spread in a pan and bake about 10 minutes, until the walnuts are aromatic and slightly browned. Cool to room temperature.
3.
If you have purchased quinoa from a bulk bin, rinse it with cold water and drain well. It is not necessary to rinse boxed quinoa if it says "prewashed."
4.
In a medium saucepan bring 2 1/2 cups water and the salt to a boil. Add the quinoa and return to a boil, stirring frequently.
5.
Reduce the heat and cover the pan. Simmer 15 - 20 minutes, until the liquid is absorbed and the quinoa is tender.
6.
Remove from heat, add the cumin, coriander and cinnamon, then stir and fluff with a fork to combine.
7.
Spread the quinoa on a platter or shallow pan to cool, stirring it occasionally with a fork.
8.
Transfer the quinoa to a large bowl and add the chickpeas, mint, scallions, orange juice, olive oil, lemon juice and orange zest.
9.
Stir and toss to combine, then top with the seasoned walnuts.
Recipe Notes
Quinoa is like a little ecosystem, containing all of the essential amino acids that make it a full protein. Its mild taste makes it a perfect starting point for building a dish with lots of character. The orange and mint bring the quinoa to life, but the walnuts, toasted with cumin and coriander pull the whole dish together, making it a nutrient power house.