Story Progress
Back to home
Pad Thai Recipe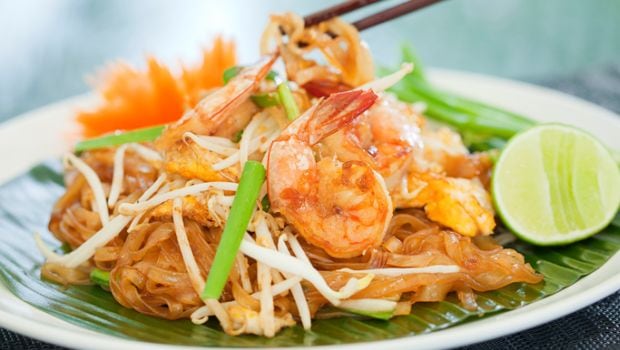 How to make Pad Thai
About Pad Thai Recipe: 'Pad Thai' is a fried noodle dish commonly served as a street food in Thailand. Here is an easy and super delicious pad thai noodle recipe that the kids would love to devour.
Total Cook Time

1 hr 15 mins

Ingredients of Pad Thai
150 gms rice flat noodles
100 gms chicken / prawn or paneer
4 tbsp vegetable oil
1 cup green onion, chopped
4 tbsp palm sugar (or 2 Tbsp regular sugar)
6 tbsp fish sauce or soy sauce
2 Eggs
1 cup bean sprouts or chopped cabbage
2 tbsp garlic, chopped
2 tbsp shallots, chopped
1 cup fried paneer, sliced
4 tbsp tamarind paste
for garnishing cabbage, bean sprouts, Green onion, Coriander leaf, lime wedges, groud roasted peanuts and ground dried red chilli
1.
Soak noodles in lukewarm water for 10-15 minutes till soft.
2.
Heat veg oil over low heat and fry the garlic and shallots till fragrant.
3.
Add chicken/prawn or paneer and stir fry till cooked.
4.
Break the eggs into the wok and mix well.
5.
Add noodles, fish sauce, sugar, tamarind paste and stir until noodles are tender and well mixed.
6.
Add bean sprouts and green onion while stirring constantly.
7.
Serve topped with garnish.
Recipe Notes
Do not under cook noodles or they will be rubbery.
If you overcook the noodles they will turn to mush.
Be generous with the tamarind, it is a great taste.
Serve hot and fresh, from wok to plate.