Story Progress
Back to home
Pad Thai (Fried Noodles) Recipe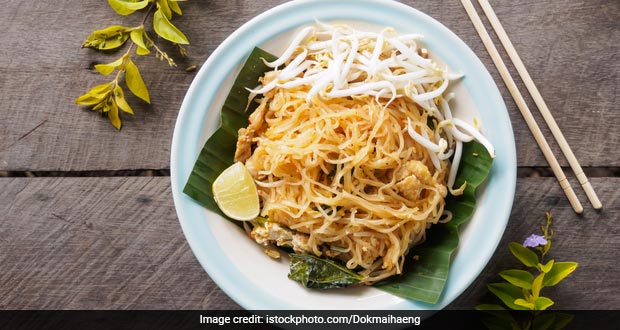 How to make Pad Thai (Fried Noodles)
Flat noodles made with rice flour beautifully entangled with tofu, eggs, beansprouts and sauces.

Ingredients of Pad Thai (Fried Noodles)
3 Tbsp Oil
4-5 tbsp Garlic , finely chopped
1/2 cup Tofu (diced) , fried
2 Eggs
120 gram Sen Lek Noodles (flat noodles) - soaked in water for 20 minutes, then drained
4 tbsp Spring Onions, finely chopped
1 cup Bean Sprouts
Peanuts (crushed), roasted
2 tbsp Lemon Juice
1 tsp Sugar
1/2 tsp Chilli Powder
2-3 tbsp Light Soy Sauce
1 Lemon Wedge
1.
In a wok or skillet, heat the oil until a light haze appears.
2.
Add the garlic and fry till golden brown.
3.
Add the tofu and stir briefly.
4.
Break the eggs into the wok mixing quickly while they cook.
5.
Add the noodles, mix well, then add the spring onions, half the amount of peanuts and beansprouts.
6.
Stir well then add the lemon juice, sugar, chilli powder and light Soy sauce.
7.
Mix it up, plate it and garnish with more peanuts.
8.
On the side, arrange the remaining beansprouts leftover peanuts and spring onions with the lemon wedge.