Story Progress
Back to home
Pan Seared Trout Recipe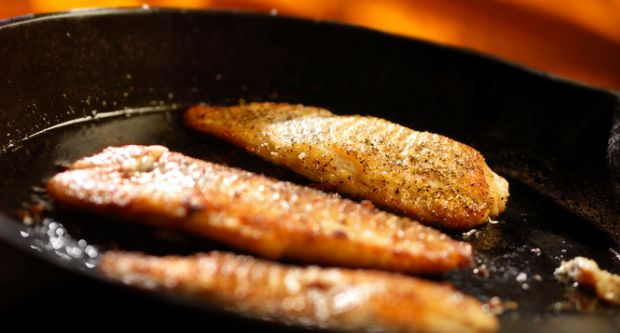 This recipe comes from Wild Flower Hall, Mashobra, Himachal Pradesh. Trout fish marinated in an array of spices and pan seared. Served with onion lachchas.
Total Cook Time

1 hr 10 mins

Ingredients of Pan Seared Trout
1 trout boned, trimmed and gutted
1 tsp dill leaves
Crushed coriander seeds
1/2 Tsp chilli flakes
4 tsp lime juice
1/2 tsp black mustard seeds
1.5 Tbsp diced onion
1 tsp fresh coriander leaf, chopped
2 Tbsp mustard oil
Salt, to taste
For the marinade:
1.
Mix half a teaspoon of salt, dill leaves, coriander seeds, chili flakes, two teaspoon lime juice and mustard oil.
2.
Let the fish marinate for ten minutes. Cook in the pan for about 7 and a half minutes.
For the sauce:
1.
Bring 2 Tbsp of mustard oil to smoking temperature in a pan. Add black mustard seeds and wait for them to crackle.
2.
Add onions and saute them. Take the pan off the flame and add fresh coriander leaves, 2 tsp lime juice and salt to taste.
3.
Pour the sauce over the fish. Serve with laccha onions and fresh lettuce and carrot.