Story Progress
Back to home
Peanut Butter Cookies Recipe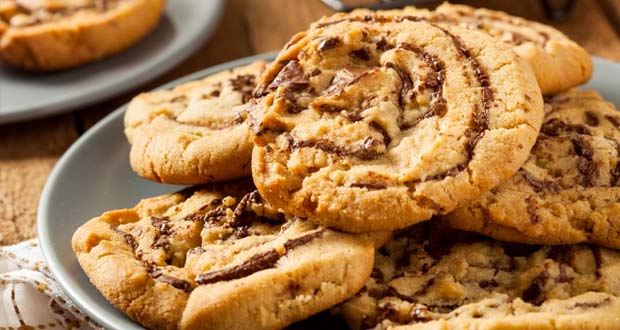 Healthy, gluten-free, oat-based cookies sure to satisfy all your cravings. And the best part? These cookies are high on fiber thanks to peanut butter, oats and banana.

Ingredients of Peanut Butter Cookies
½ cup of honey
½ cup of peanut butter
⅓ cup of mashed banana
4 tbsp of butter or ¼ cup melted coconut oil
2 eggs
1 tsp of vanilla extract
½ tsp of baking soda
½ tsp of baking powder
½ tsp of ground cinnamon
1 ½ of cup rolled oats (grind for 30 seconds in food processor)
1 ½ of cups semi-sweet chocolate chips
1.
1. Preheat the oven to 325 degrees Fahrenheit, and lightly grease the baking sheets.
2.
2. Pour the honey and peanut butter mixture into a mixing bowl.
3.
3. Add the mashed banana and melted butter and whisk until the mixture is well blended. Use your whisk to beat in the egg, then add vanilla essence.
4.
4. In another bowl, add oats, baking powder, baking soda, cinnamon and chocolate chips until they are evenly combined. Combine the dry and wet ingredients.
5.
5. Then use an ice cream scoop to place even amounts of cookie dough onto the baking sheets.
6.
6. Bake the cookies until they're just beginning to turn golden around the edges, about 15 minutes.
7.
7. Then remove the cookies from the oven and let them cool completely on the wire rack. If desired, sprinkle lightly with flaky sea salt.