Story Progress
Back to home
Pickled Cabbage Recipe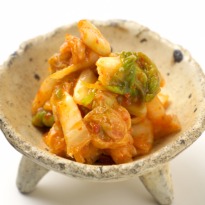 Add some tang to your meals with this pickled cabbage recipe. It's perfect to add to your burgers and sandwiches.

Ingredients of Pickled Cabbage
1/2 kg cabbage
225 ml vinegar
100 gm sugar
1 Tbsp salt
2 Tbsp oil
1 Tbsp chopped garlic cloves
300 gm mushrooms
100 gm spring onions - cut into 1
1 1/2 tsp sugar salt and pepper
1.
Cut cabbage into 2" square pieces. Allow it to wilt for 24 hours.
2.
Boil vinegar with sugar and salt for 3 minutes. Cool. Pour over the cabbage.
3.
Seal in a jar and set aside for 3 days.
4.
Heat oil, fry garlic until golden.
5.
Add remaining ingredients and pickled cabbage.
6.
Stir fry for 1 minute and serve.