Story Progress
Back to home
Pineapple Halwa Recipe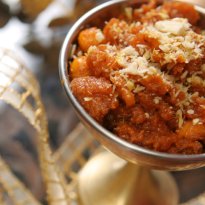 How to make Pineapple Halwa
Saffron is added to a cooked mixture of cottage or ricotta cheese and pineapple to make a tasty halwa.
Total Cook Time

25 mins 30 seconds

Cook Time

20 mins 30 seconds

Ingredients of Pineapple Halwa
250 gm crushed paneer or ricotta cheese
450 gm canned pineapple - crushed
60 gm sugar
2 tbsp ghee
A pinch of saffron
Few drops of yellow food color (optional)
Pistachios - sliced
1.
Mix the cheese, ghee and crushed pineapple in a pan and bring to a boil.
2.
Once it starts to bubble, add the yellow food color.
3.
Cover and let it cook on medium till the water evaporates.
4.
Add the sugar and saffron and saute it for 5-10 minutes or till it leaves the sides of the pan.
5.
Transfer on to a serving dish and garnish with chopped pistachios.