Story Progress
Back to home
Pineapple Upside Down Cake Recipe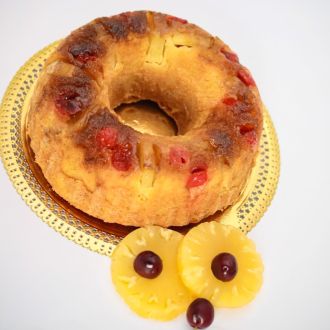 When we think of a pineapple upside down cake, we almost always imagine it in the shape of a bundt cake. It just looks so much better like that. So this is an easy dessert recipe for when you throw a diner party and plan to woe all your guests.

Ingredients of Pineapple Upside Down Cake
1/2 cup of brown sugar
1/2 cup of melted butter
1 tin of pineapple or a fresh pineapple
1 tin of cherry or fresh cherries
6 eggs
18 ounces of flour
6 ounces of caster sugar
6 ounces of vegetable oil
4 1/2 tsp of baking powder
1 Tbsp of vanilla essence
salt
1.
1. Take a bundt tin and grease it. This is important so that your cake once baked is removed from the tin easily.
2.
2. Pour the melted butter in first and scatter the brown sugar on top of that evenly.
3.
3. Arrange the pineapple slices in a circle, dot their centers with cherries and use sliced pineapple or cherries wherever there are blank spaces. Place the bundt tin aside.
4.
4. In a large mixing bowl combine eggs, oil, sugar and essence and beat with a hand mixer or your stand mixer till well blended.
5.
5. In a separate large mixing bowl, sift the flour once with the baking powder and salt then add sifted flour into the batter, one tbsp at a time while beating with the mixer.
6.
You should beat it till the batter is smooth and creamy.
7.
6. Pour into the prepared bundt tin and bake for 30-40mins at 180 degree Celsius; but since every oven is different; keep a close eye on your cake once it has been in the oven for 20 minutes.
8.
7. Remove from oven once cake is golden brown and firm to the touch.
9.
8. Let it cool a little, poke tiny holes and drizzle the leftover pineapple juice of the tin 3-4 times.
10.
9. Once completely cool, remove from tin.