Story Progress
Back to home
Pineapple Raita Recipe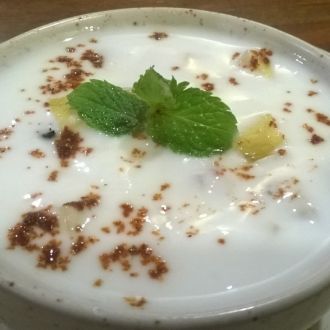 A perfect cooler to go with your meal. This raita combines the goodness and sweetness of pineapple with soothing curd. A beautiful blend of flavours.

Ingredients of Pineapple Raita
25 gm of pineapple
60 gm of hung curd
1 chopped green chilli
2 sprigs of mint leaves
black salt to taste
1/2 tsp sugar
2 gm of black pepper powder
1.
1. Cut pineapple into 2" cubes.
2.
2. Put them on a skewer and cook in a tandoori till soft but not mushy.
3.
3. Whisk the yoghurt in a bowl till smooth and add cooled and chopped pineapple, reserving little bit for garnish.
4.
4. Add the rest of the ingredients and mix well.
5.
5. Garnish with chopped pineapple and mint Sprig.