Story Progress
Back to home
Pineapple Halwa Recipe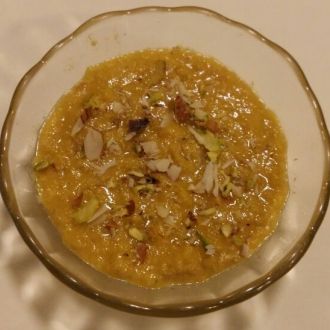 Enjoy this creamy halwa with a fruity and flavorful twist of taste.

Ingredients of Pineapple Halwa
1 peeled pineapple
1 1/2 cups of sugar
4 Tbsp of ghee
1 cup of semolina
1 Tbsp finely chopped almonds
1/4 cup of khoya
A few strands of saffron
1.
1. Heat a non-stick pan. Add sugar and water, enough to soak the sugar. Cook stirring continuously tills the sugar dissolves.
2.
2. Remove stem of the pineapple, cut it into small pieces and add to the pan. Add saffron and cook on low heat.
3.
3. Heat ghee in another non-stick pan. Add semolina and sauté on medium heat till light golden.
4.
4. Add almonds and cooked pineapple along with the sugar syrup and mix well. Cook till semolina is cooked. Add khoya and sauté for 2 minutes.
5.
5. Transfer into a serving bowl, garnish with almonds and serve.