Story Progress
Back to home
Pork And Shrimp on Sugarcane Sticks Recipe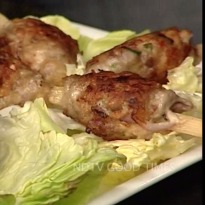 Chef Nikhil Chib cooks a dish which he picked up from the city of Saigon, Vietnam. Ground pork and shrimp mixed with an array of spices, wrapped around a sugarcane stick, steamed and then pan fried. Served with a delicious honey chilli sauce.

Ingredients of Pork And Shrimp on Sugarcane Sticks
For the kebabs:
150 gm ground shrimp
150 gm ground pork
2 tsp lemon juice
3 tsp fish sauce
2 garlic cloves, chopped
1 onion, chopped
2 spring onions, chopped
1 kafir lime leaf, chopped
Salt
Pepper
1/2 red chilli, chopped
1 egg
2 Tbsp (or more, depending on the consistency of the mixture) cornflour
4-5 sugarcane sticks cut into small pieces like skewers
Oil, to pan fry
For the honey chilli sauce:
2 Tbsp honey
2 garlic cloves
1 chilli, chopped
2 tsp fish sauce
1 tsp lemon juice
For the kebabs:
1.
In a bowl add the ground shrimp, pork, lemon juice and fish sauce. Mix.
2.
Add garlic, onions, spring onions, kafir lime leaf, salt, pepper, red chillies and egg. Mix well.
3.
Add cornflour till the mixture binds well.
4.
On a sugarcane stick roll the mixture. (Like you do for seekh kebabs on a skewer).
5.
Steam these for about 7-10 minutes.
6.
In a pan add some oil and pan fry the steamed meat sticks till golden to dark brown in color.
7.
Serve with the honey chilli sauce.
For the honey chilli sauce:
1.
Mix all the ingredients together to make a lovely honey chilli sauce.