Story Progress
Back to home
Pot Roast Chicken Recipe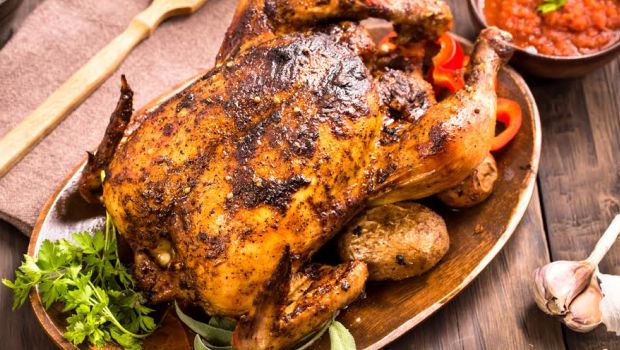 How to make Pot Roast Chicken
Don't have an oven? Make this roast chicken on your stove-top.
Total Cook Time

1 hr 15 mins

Ingredients of Pot Roast Chicken
For the chicken:
1 kg whole broiler chicken
1 tsp of ginger garlic paste
2 Tbsp curd
1 cup water
Salt - to taste
For the gravy:
3-4 tsp vegetable oil
1 small bowl chopped onions
1 small bowl chopped tomatoes
1 cup chicken stock
1 chicken cube (optional)
2 tsp Worcestershire sauce
Salt and pepper - to taste
1.
First marinate the chicken with the curd , ginger garlic paste and salt for 4 to 5 hours.
2.
Now heat the chicken stock in a pan.
3.
In another deep vessel, heat the oil and saute the onions till golden brown.
4.
Add the tomatoes and cook till soft.
5.
Remove and add them to the chicken stock.
6.
Let it simmer for five minutes.
7.
Add the some salt, pepper and wostershire sauce.
8.
Continue simmering for 2 minutes, then strain it and keep aside.
9.
Now place the whole chicken in the same deep vessel.
10.
Let it brown on all sides.
11.
Add the water, cover and cook for 20-30 minutes.
12.
Serve with hot gravy and vegetables.